A Doorstop as the name suggests, it's a device used to stop the door. But the question arises, what kind of device an Easy- Step Door Stop. It's a doorstopper placed at the beneath of door.
It has various features which makes it the best and eliminate it from the rest of the door stop available at the stores.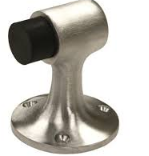 Some amazing features of the Product are:
Hands Free: This product doesn't bother you by again and again bending or arranging the holders or stopper to stop the door from closing. This will help you with unnecessary time you have to hold the door.
Push Down to Set: You just need to simply push down the door stop to lock the doorstep in that place. It is really simple to use.
Step to Release: The person has to Step on Pedal to release. It requires no bending, manual lifting, or dirty shoes! You don't need to get down to push the doorstop.
Sturdy Spring Mechanism: Sturdy spring Mechanism property allows the convenient Step-to-Release action without creating a mess. It makes a smooth transition without much friction.
Solid Grip: This doorstop stays put. There's no need to replace rubber tip every time you try to use it. The grip used on the top is really solid.
Height Adjustable: It contains the Rubber foot at the bottom. This Rubber Foot can easily adjust in height to fit any door.
Available in 4 Finishes: It's the most important and Eye-catching feature of this product, It's available in Satin Nickel, Antique Bronze, Brass and Chrome. It's a nice looking equipment to help you on a daily basis.
"People have faced lots of issues with the "normal" door stops not staying up in the place, but because these are spring loaded they always stay up where you leave!"